Glass Protection and Coating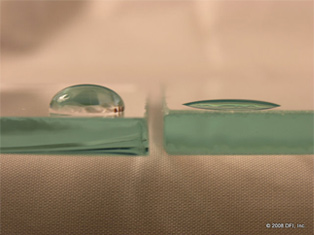 Diamon-Fusion ®
Diamon-Fusion® is patented award-winning protective coating technology which can be easily installed on any silica-based surface such as glass, tiles, ceramic, granit and quartz.
Chemical reaction of Diamon-Fusion® bonds to form an invisible ultra-thin protective layer which makes the surface significantly easier to clean, increases their brilliance, protects that beauty and eliminates the need for harsh and harmful cleaning chemicals. It can also make glass surfaces more scratch and impact resistant.
Clear-Fusion™V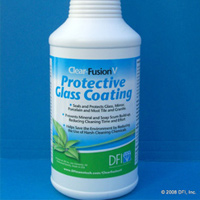 While Diamon-Fusion® is DFI's flagship protective coating, it may not present the right fit for all customers. If an authorized Diamon-Fusion® installer is not available in your area or perhaps you're looking for a lower-cost alternative, Clear-Fusion™V is right for you.
For the "do-it-yourself" enthusiast Clear-Fusion™V Protective Coating offers an easy-to-use, self-application coating process for silica-based surfaces such as glass, porcelain, tile and granite, ensuring the treated surfaces are water repellent, as well as more stain, scratch and impact resistant.
DFI Consumer Maintenance Kit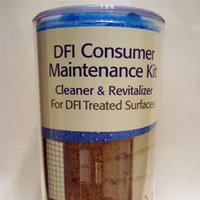 While DFI's patented protective coatings are designed to be long-lasting, occasional maintenance will go a long way towards ensuring the coating performs the way it should for years and years. With this in mind, DFI has created the DFI Consumer Maintenance Kit to help maintain your Diamon-Fusion® (or other DFI coating) treated surface. This Kit is also great at helping you met the maintenance requirement of the Diamon-Fusion® Limited Lifetime Warranty.
DFI Express Care Kit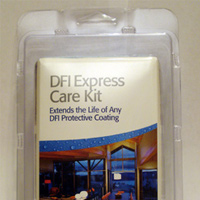 A Smart Choice to Maintain Your Surfaces in Top Condition
Using the DFI Express Care Kit is a quick, convenient way to help you enjoy your treated surfaces for years to come. Like its big brother, DFI's Consumer Maintenance Kit , the Express Care Kit provides everything you need to do the basic maintenance, but in a more compact size. With DFI's protective coatings, basic maintenance is all that's needed to keep your surfaces beautiful for years.
DFI Glass Rescue™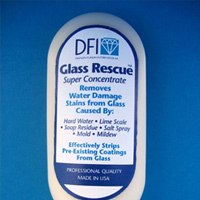 Why Replace When You Can Restore?
For many home or business owners who have badly stained windows, shower doors and other surfaces, but are hesitant to replace them, due to cost or inconvenience, DFI has the solution. Glass Rescue™, cleans and restores heavily stained surfaces – even those stained over long periods of time - by lime scale, calcium deposits, soap scum, salt spray, and other contaminants – with reduced effort and time. Restoring these surfaces, which may still be in good condition had they been properly maintained with DFI products, is welcomed as a cost-effective eco-friendly alternative.
DFI Restoration Powder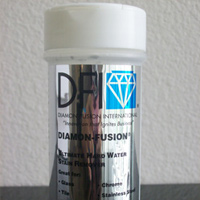 The Ultimate Product to Restore and Prepare Surfaces for Treatment
When your shower enclosure, sink, toilet, window or windscreen was new, it was clean, clear and beautiful. Now, after years of use, it has ugly hard-water stains that no matter how much you scrub won't come off. You use harsh chemicals that are noxious to breathe and damage the environment, but still those stains are impossible to remove.
DFI Revitalizer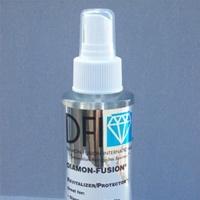 Every surface is different. Some surfaces receive a lot of abuse or are exposed more to abrasion or potential damage, such as a car windshield due to the mechanical abrasion caused by the windshield wipers. Some surfaces receive very little abuse or damage, such as an objet d'art. For those surfaces that are inherently exposed to more damage or abuse, DFI protective coatings can help maintain the beauty and functionality for much longer than were that surface not protected. In such case, however, the coating itself is more exposed to deterioration which, over time, will affect the coating's effectiveness.