DFI Consumer Maintenance Kit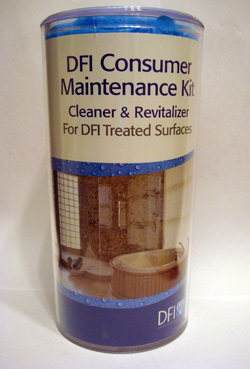 Caring for Your Valuable Investment - Your DFI Treated Surface.
While DFI's patented protective coatings are designed to be long-lasting, occasional maintenance will go a long way towards ensuring the coating performs the way it should for years and years. With this in mind, DFI has created the DFI Consumer Maintenance Kit to help maintain your Diamon-Fusion® (or other DFI coating) treated surface. This Kit is also great at helping you met the maintenance requirement of the Diamon-Fusion® Limited Lifetime Warranty.
The Only Maintenance Kit You Will Need.
The DFI Consumer Maintenance Kit is a compact all-in-one kit containing the award-winning products and cleaning tools to ensure your Diamon-Fusion® treated surface remain in top condition for years to come. Each kit has been designed and tested specifically for use with DFI protective coatings to achieve the highest quality results possible. The kit is user-friendly and makes cleaning, protecting and maintaining surfaces easier for the consumer.
Each DFI Consumer Maintenance Kit contains:
A 16 ounce spray bottle of DFI Revitalizer to revitalize coated surfaces to "like-new" condition;
A 1 ounce bottle of DFI Restoration Powder to save you if you've forgotten to do the basic routine maintenance;
Light scrubber to use to quickly remove any spot that occurs if the few water drops that do stick are left to dry;
Heavy scrubber also for use if you've forgotten the basic maintenance;
and Microfiber Towel, soft but durable, to polish and buff the surface to a beautiful and lasting finish.
Each kit comes with detailed and easy-to-follow instructions for maximum performance.